RF Full Package Quick Install Three Piece Electric Ball Valve
Application:
RF Full Package Quick Install Three Piece Electric Ball Valve is mainly used in the wine brewing,dairy,beverage,and pharmaceutical industries.
Operating Principle:
1. When the pneumatic actuator is connected to the circuit and system air supply, the air enters the A cylinder (B cylinder) through the pipe A or B pipe to push the piston to move to one end, thereby driving the rotating shaft and the core to rotate 90°.
2. The top of the pneumatic actuator is linked to the visual device. When the green mark points to the word "ON", the valve is opened.
3. The signal of the reply signal is green when the valve is in the open position, and when the red light is on, the valve is in the closed position.
4. The positioner can adjust the flow of the valve pipe. 5. The valve seat adopts the elastic sealing structure, the seal is reliable, and the opening and closing is easy.
5. The valve stem adopts a bottom-loading structure with an inverted seal. When the valve cavity is abnormally boosted, the valve stem will not be impacted.
6. Pneumatic piston actuator is made of low-friction material, and the inner and outer surfaces of the cylinder are hard anodized and treated to improve the service life of the cylinder.
Design Features:
All-inclusive tee design,no stranded high clean,meet the requirement of CIP and SIP sterilization and cleaning,and heat resistance of 180ºC,the highest pressure 10 bar.
Available with a variety of structures,such as electric pneumatic,stainless steel,horizontal vertical pneumatic,key manually handle,can also be equipped with the control unit,locato,position sensor and other compatible automatic control system.
Valve body can be replaced in any connections,and the length will not change.
Connection:clamp,weld,thread,flange
Material for the part contacted with media is 304/316L,other part is 304.
Sealing material:PTFE,it is according to FDA117.2600
Size:1/2"-4/DN10-100 Standars:3A,DIN,SMS,IDF,RJT,BPE,ISO
Main Parts and Materials
| | |
| --- | --- |
| product name | RF Full Package Quick Install Three Piece Electric Ball Valve |
| 1.Material | Stainless Steel 304/316L |
| 2. Port Size | Dn10-100&1/2''-4'' |
| 3. Certificate | CE/ISO/3A |
| 4. Port | Ningbo,China |
| 5. Pressure | 0-10bar |
| 6. Connection Ends | Quick-install |
| 7. Working Temp. | -20 Degree Celsius to 180 Degree |
| 8. Suitable Medium | Milk,Bear,Water,Oil,Ect |
| 9.Standard | SMS,DIN,AAA,IDF,ISO,RJT |
| 10. Machine Processing | The most advanced CNC machine from Japan for processing |
| 11. Special Design | We can produce according to your drawings |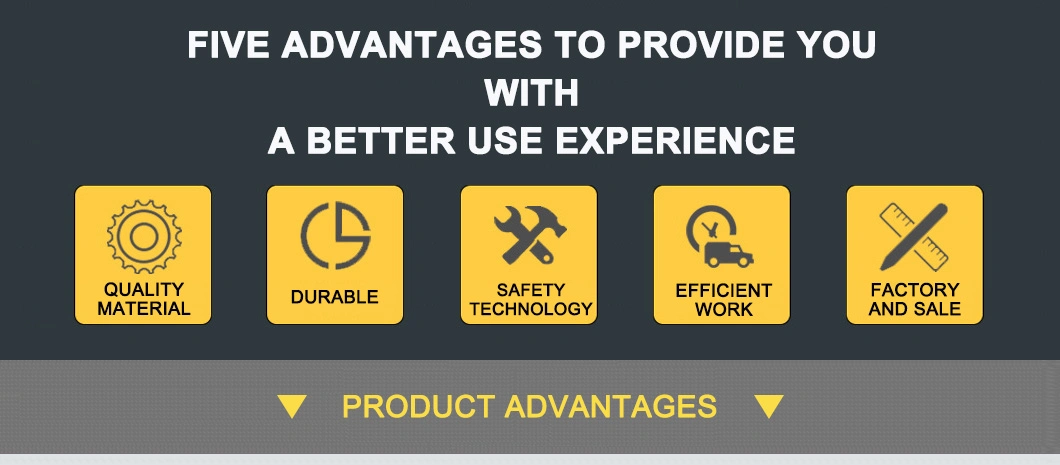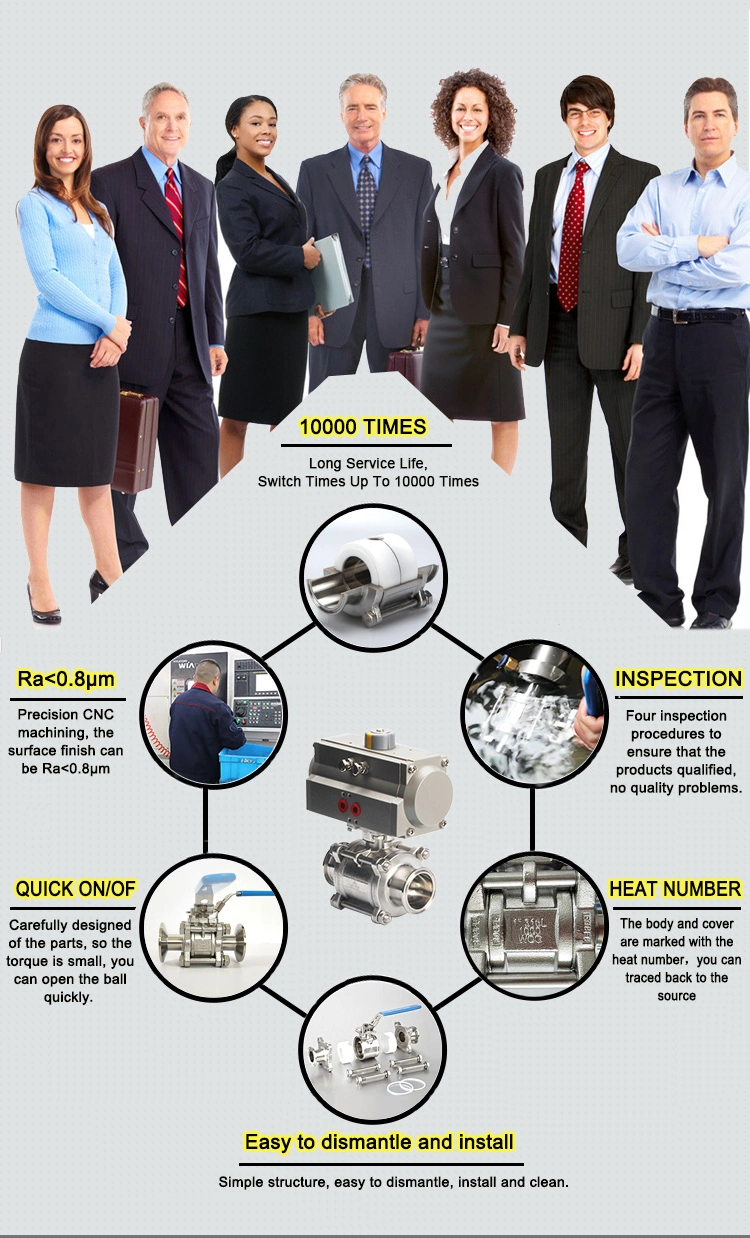 Why use a 3 piece ball valve?
3-piece-ball-valve-2. PngFor processes that put heavy demands on valves, having a 3 piece valve is more convenient than one or two piece ball valves. When seats and seals need to be routinely replaced, having three pieces allows for easy disassembly, servicing and reassembly without having to do major cutting on the pipe.
Three piece ball valves also allow for elastomers to be changed to accomodate different process conditions, temperatures, pressures and flows.
Need to weld the valve in place? Another benefit is being able to move the body with trim out of the way while welding, ensuring the internals stay intact.
What's the big difference between 2 and 3 piece ball valves (other than the obvious...)?
Two piece ball valves were also designed with maintenance in mind. The big difference between the two is that the body on the 3 piece valve can be taken out without disturbing the two end caps. A two-piece ball valve doesn't often allow this to happen, and it's not possible at all with a one piece ball valve.
There's also a price difference. As noted earlier, one piece valves are generally of the throw away variety. Three piece valves tend to initially cost more, but can save money in the long run in terms of time spent maintaining, and ability to change seats and seals vs. Replacing the valve in its entirety.
Not sure how many pieces you should select for your ball valve application? Ask us about it! We gladly provide technical assistance to you.
Port Size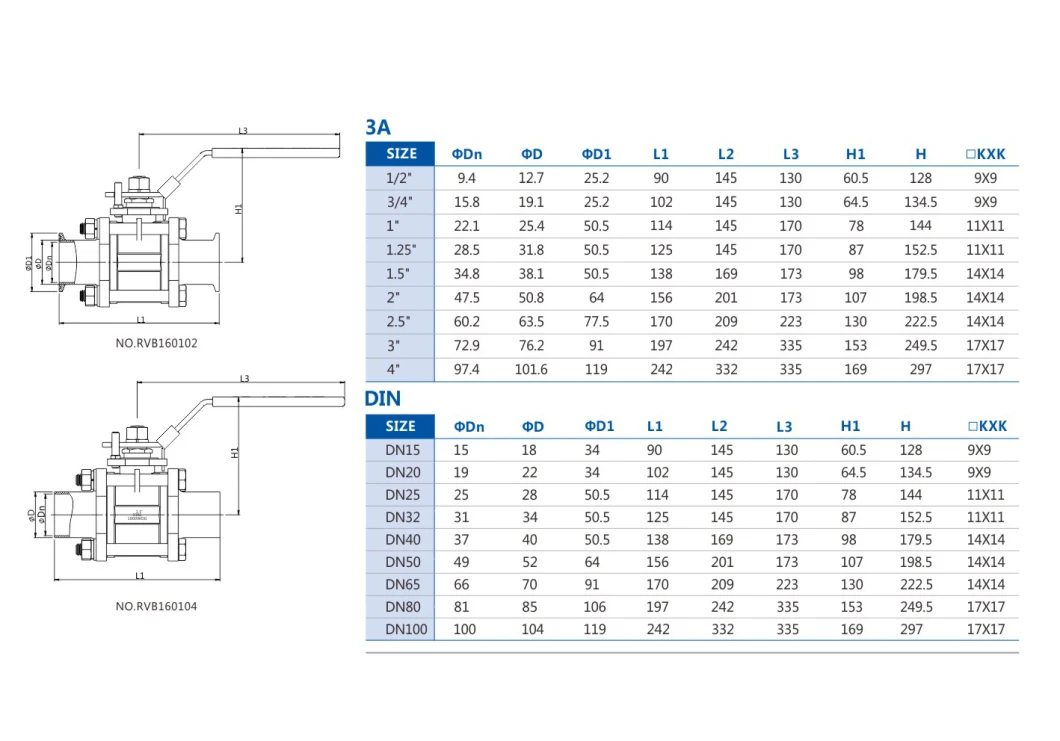 Factory with Trading Department
Wenzhou Rifeng Technology Co., Ltd. Offers broadest range of Stainless steel valves suitable for aseptic and hygienic process equipments conforming to SMS, DIN & IDF and other international standards.

Wenzhou Rifeng Technology Co., Ltd. Seated "China valve city" Wenzhou binhai economic development zone. Covers an area of 3975 square meters, the existing staff of 125 people, containing 4 engineers, and 90 professional technicians.
Sunrise From Orient, Soar To Great Heights



Packaging & Shipping Way

For large quantity: Foam Bag - Carton - Plywood Case. By Sea or By Air. The produce time is about 10-40days.

For Small goods: Foam Bag - Carton. By DHL, FedEx, UPS OR TNT Courier. The produce time within in 10days.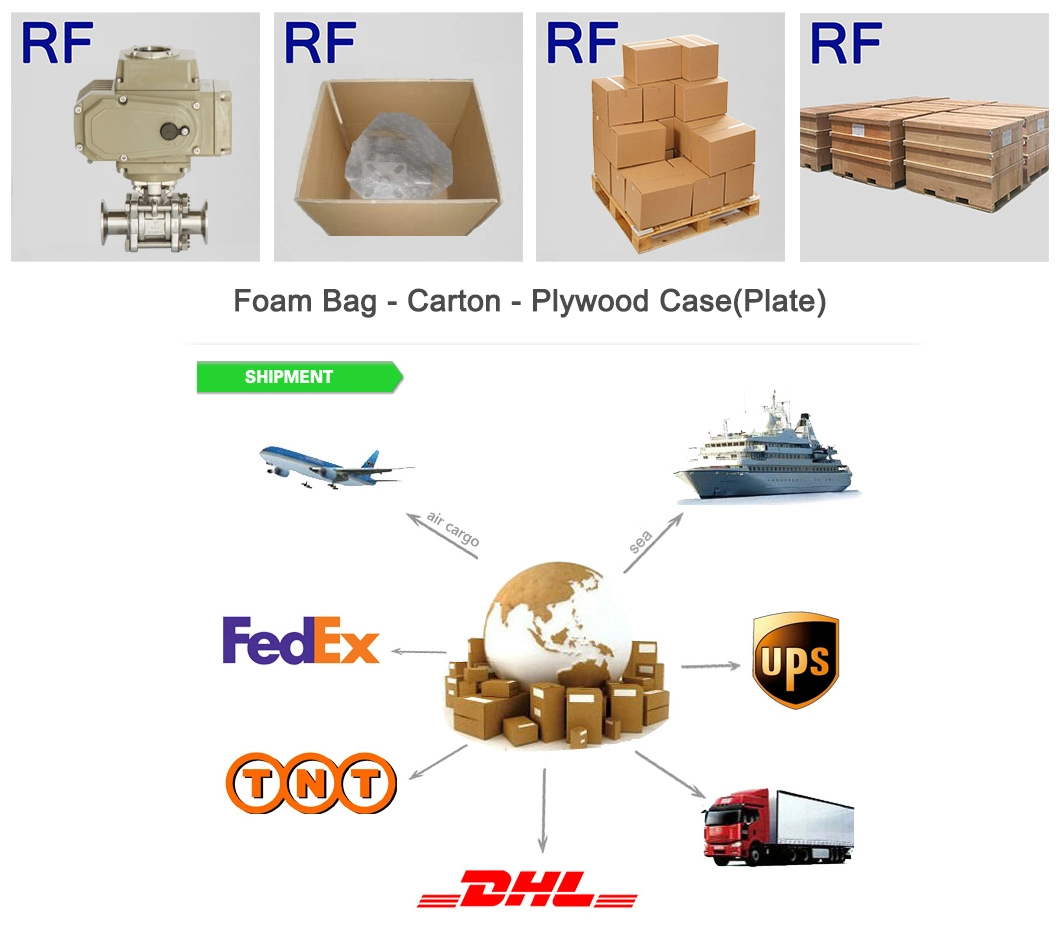 Certificate & Patent

CE: Number RF-15000960
ISO: CNASC163Q14Q21063R0S
3A: Number 68-00, Number 63-03, Number 33-02.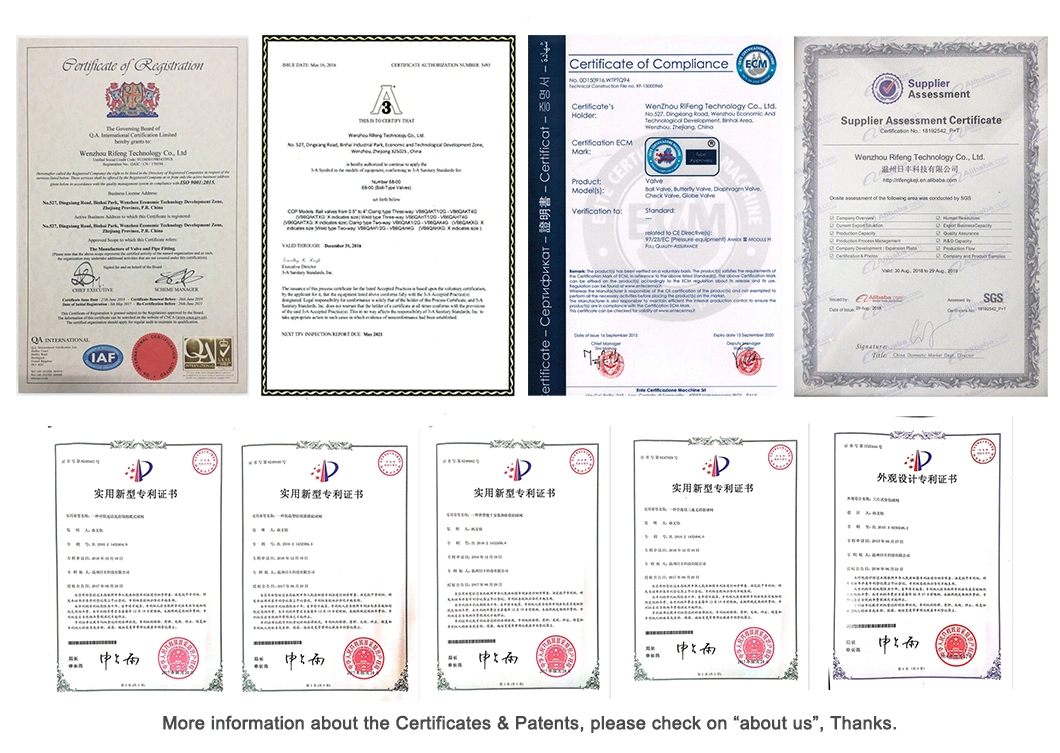 Our Service:
About payment:
Payment methods: L/C, T/ T, Paypal.
About samples:
We can provide samples production and service. Usually 2 to 5 days, the sample can be sent to your hands. Any question about samples, please contact us. Samll Sample can be free if you pay the express fee.
For OEM products:
We will finish the production within 15-40 days after payment has been confirmed.
About delivery and shipping:
We will choose the delivery way as you required: By sea, by air, by express ect. Save your cost is our mission.
Warranty:
Any question or problem will be respond within 24 hours.
Lifetime service:
Any problem happened to our product, we will do our best to help client to solve it.
Problem solve:
You send us the video or pictures about the question, then we will tell you how to repair it, If you can't solve the problem in your local, please delivery the product to us, we will repair it and then back to you.
Quality control:
All the products are calibrated with real working condition, and tested before shipping as qualified product.
Integrity: All the warranty and guarantee from us will be put into come true.